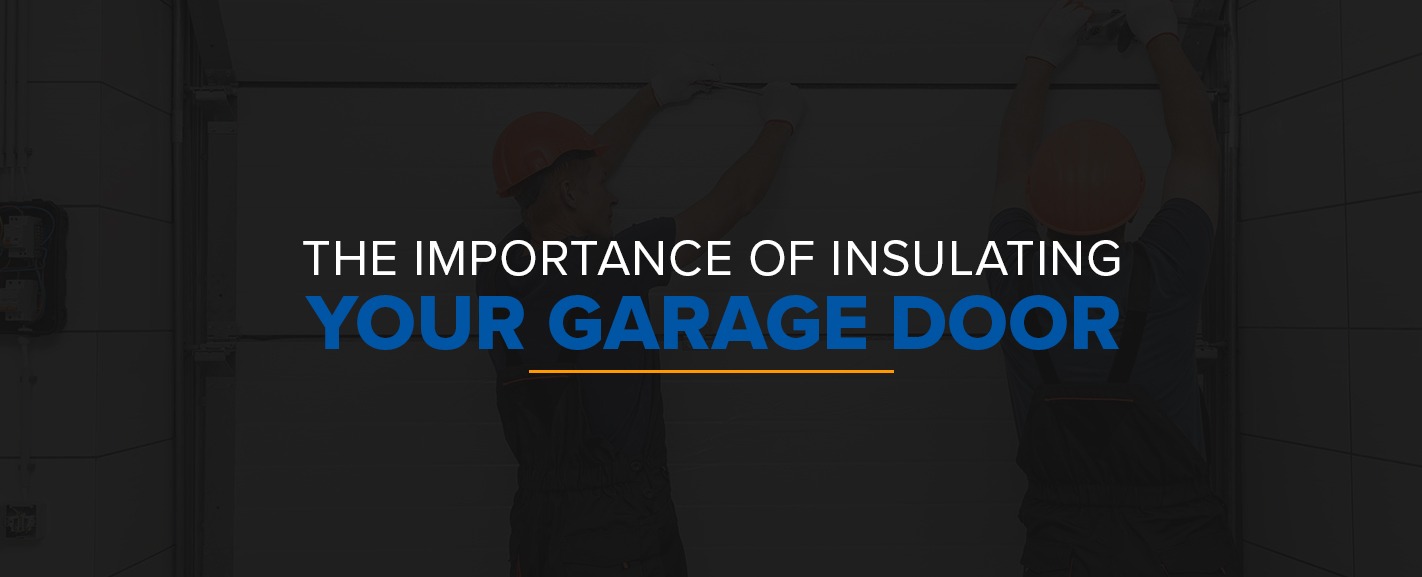 A properly insulated garage door prevents warm air from escaping your garage during the cooler months and hot air from entering during the warmer months. The increased insulation helps decrease your energy usage and provides many other benefits for your garage, home and wallet. Since your garage door is the largest opening to your home, it must have sufficient insulation, or you'll experience drafts, extreme temperatures and energy loss.
You have a few options available if you're looking to insulate your garage door. You can choose to go the DIY route with an insulation kit, contact a professional garage service to upgrade your current door or replace your old door with an energy-efficient replacement. If you opt to get a brand-new door, you can compare many options to add insulation and style to your home. Modern garage doors add significant curb appeal and value to your home.
Older or poorly insulated garage doors can lead to various problems in the home. For example, water can build up in your garage after a rainstorm or high-humidity days. The water trapped inside your garage struggles to evaporate, and it can cause mold to develop throughout your home and your possessions. A buildup of water in your garage can also lead to condensation forming in your vehicles' crevices and electrical circuits, leading to faster deterioration over time.
Are insulated garage doors worth it? Keep reading to learn more.
6 Benefits of Insulating Your Garage Doors
Why insulate your garage door? Doing so brings many advantages and allows you to recoup your initial investment through increased energy savings and protecting your home and belongings. Here are six of the most significant reasons to insulate your garage door.
1. Increase Energy Efficiency
Is your garage cold in the winter and hot in the summer? Even if you have insulated your garage's walls, your garage door may be causing a significant energy drain. An insulated garage door will help seal your garage off from the outside temperatures that sneak into your home through your garage. You should notice a decrease in your heating and cooling costs when you insulate your garage doors. Hot or cold air can enter the rest of your home when your garage is at a higher or lower temperature, which results in your A/C and heating units having to overcompensate and operate more often.
Insulating your garage door will help keep your garage at a moderate and comfortable temperature — not too hot and not too cold. Another benefit is that you can work in your garage year-round, due to the more comfortable temperature.
2. Notice Quieter Operation
Older and uninsulated garage doors can make loud noises when you operate them, while insulated garage doors are much quieter. You can resolve the abrasive creaking and rattling by insulating or replacing your garage door. For many uninsulated garage doors, the sounds you're hearing may be from the panels on the door vibrating and creating noise. Panel vibration can be worse for more lightweight garage doors. Solve this problem by insulating your current door or replacing it with a new, high-quality one. The insulation prevents the tiles from rattling and will cut down on the noises you hear when operating the door.
3. Boost Door Strength and Durability
Is insulating a garage worth it? Insulated garage doors consist of more durable materials than uninsulated ones, making them suitable for long-term investment in your home. Insulated doors should require less frequent maintenance and repairs. The materials' strength also makes the doors more resistant to damage like dents or warping. The constant opening and closing of garage doors can wear them down over time, but an insulated garage door will long outlast an uninsulated one. Many insulated garage doors have a steel or aluminum frame with solid insulation on the interior, making them sturdy, lightweight and durable enough to withstand the elements.
4. Protect Your Car and Belongings
Installing an insulated garage door is vital if you want to protect your car and other belongings you keep in your garage. Extreme heat, cold and humidity can damage your possessions, leading to costly repair bills or permanent damage. Your garage will stay at a relatively consistent temperature throughout the year if you have an insulated garage door. Keeping your car in a controlled environment will help prevent wear and tear from temperature fluctuations.
Insulated garage doors are also helpful in keeping water from coming into your garage. Water struggles to evaporate once it enters your garage because it has nowhere to go, and the lingering water increases the humidity levels. High humidity and condensation can make your tools rusty, damage your vehicles' electrical components and cause mold to develop in your walls or on items you store in the garage. An insulated garage door will form a tight seal with the garage floor, which will prevent water from entering.
5. Reduce Noise
Insulating a garage door helps keep external sounds out and internal ones in. The thick insulation will do wonders for noise reduction if you live in an area with nearby neighbors or a busy street. Working in your garage can be noisy, and an uninsulated garage door doesn't do much to prevent loud noises from leaking out. You can avoid irritating neighbors with loud power tools because the insulation will keep the noise contained.
6. Increase Curb Appeal
You can replace your garage door with a modern, insulated door that will elevate the appearance of your garage. Your garage is one of the most visible aspects of your home, and a high-quality garage door can elevate the curb appeal. An appealing garage door will also boost your home's value, and you'll see a return on your investment, whether you're planning on living in your house for years to come or are considering selling soon.
Does Insulating a Garage Door Help You Save Money?
Installing an insulated garage door will generate immediate savings due to the increased energy efficiency of insulated vs. non-insulated garage doors. Insulating a garage door makes the most difference for your savings if you live in an area that experiences extreme temperatures and have an attached garage. Attached garages pose the most significant energy drain because your home probably shares at least one wall with the garage.
Freezing and scorching temperatures that enter your garage through uninsulated garage doors will leak into the rest of your home through the walls and house doors, which causes your home's internal temperature to fluctuate. Your cooling and heating systems will have to compensate to restore the correct temperature, causing higher energy usage and mechanical strain.
Ultimately, the amount of money you save on your energy bills will depend on where you live and how much heat loss occurs from your garage door. Living in an extremely hot or cold climate makes insulated garage doors worth it.
Types of Insulated and Energy-Efficient Garage Doors
The type of insulated garage door you choose depends mainly on your climate, aesthetics and how much you're looking to spend. If the garage door has the necessary amount of insulation for your environment, any insulated door should suit your needs. Most insulated garage doors are multilayered and have a thick layer of insulation within the frame. Here are the most common types of insulated and energy-efficient garage doors.
Steel insulated garage doors: Steel insulated garage doors have an insulating layer inside the steel frame. The steel results in a very durable door that is dent-resistant, long-lasting and able to withstand the effect of the elements. Steel doors can corrode and rust in coastal climates due to the high salt content in the air, so it's vital to treat them properly and have the paint refinished if any chips occur.
Aluminum insulated garage doors: An aluminum garage door is a great, lightweight option that requires little maintenance. Aluminum will hold up against weather and won't rust in coastal climates as steel doors may. Aluminum's lightweight nature makes it particularly helpful for older adults who may struggle to lift a manual garage door.
Fiberglass insulated garage doors: Fiberglass garage doors are another reliable and lightweight option with low maintenance requirements. The finish on most fiberglass doors looks like natural wood, so it's an excellent option if wood fits your home's aesthetic.
Wood insulated garage doors: Wooden garage doors tend to be the most expensive, but they offer a luxurious look and add value to a home. Wood requires more upkeep than other options because you need to reseal it to prevent mildew, mold and pests. However, you'll enjoy wood doors' durable, long-lasting nature if you follow the maintenance schedule.
View Our Residential Garage Door Styles
Other Factors Affecting a Garage Door's Energy Efficiency
The type of door you choose is less of a factor than garage door insulation ratings, windows and the door's size. Let's dig into what this means.
R-Value
An R-value is a measurement of how effective insulation is at preventing heat loss. The "R" stands for the resistance a material has against heat flow. A higher R-value means the material limits more heat than one with a lower R-value. A lower insulation R-value will result in more garage door heat loss than a higher-value one.
Some garage door manufacturers measure the R-value in different areas than other companies, making it challenging to accurately compare the insulation value of different branded garage doors. When a manufacturer provides an R-value based on the entire door, the values will be lower than those measured from the center panel.
Because the R-value doesn't have a consistent measurement method, it's not a reliable indicator of the insulation's thermal efficiency.
U-Value
The U-value — sometimes referred to as U-factor — is a helpful alternative to the R-value because it measures the entire garage door's insulation. This form of measurement is much more reliable because some parts of the door, such as the frame and seals, can't have the same degree of insulation as the panels. Insulated garage door U-factors account for this and provide a consistent figure across all manufacturers.
U-values range from zero to one, and lower numbers indicate better insulation than higher ones.
Garage Door Insulation: Polystyrene vs. Polyurethane
There are two main insulation types found in garage doors.
Polystyrene: Polystyrene is similar to Styrofoam, but it's more condensed, so it offers superior insulation properties. Garage door manufacturers typically glue sheets of polystyrene to the garage door panels. Gluing the insulation causes some areas like the panels' corners to have air pockets, which reduces the insulation. Polystyrene can deteriorate if exposed to chemicals such as bug spray or gasoline.
Polyurethane: Polyurethane, another form of garage door thermal insulation, gets sprayed directly inside the garage door frame, resulting in a much more thorough application of the insulation and higher U-value. Polyurethane is very fire-retardant and won't melt if exposed to fire. It can withstand temperatures up to 700 degrees Fahrenheit before it begins to char. It's also resistant to all chemicals, oxidation and sun damage.
Both materials will age well and not deteriorate over time if the door remains in good external condition, but polyurethane will hold up better when exposed to stressors. While polyurethane offers better insulation, it also costs more on average than polystyrene.
Windows
Windows in a garage door can add visual appeal, but glass is a poor insulator. If you're in a climate that gets very hot or cold, you should consider getting a garage door without windows. Garage doors will have energy-efficient windows, but they're still not as insulated as a standard insulated garage door will be, and heat will transfer through the glass.
Correct Garage Door Size
It's vital that the garage door fits correctly and forms a tight seal against the ground and the sides of the garage to prevent wind and cold air from entering. If there are any gaps, your insulated garage door will be much less effective because the air will still have a place to escape.
Contact AAA Garage Door for Replacement and Repair
Does an insulated garage door make a difference? After reading this post, we think you'll agree it does. At AAA Garage Door, we've been in this business for over 25 years. Count on us to provide you with garage door repair, inspections, regular maintenance and even replace your current garage door with a fully insulated one to increase your energy savings and keep your home comfortable.
We have a range of garage doors for you to choose from that look modern and provide insulation against our harsh Nebraska winters.
Fill out our online form to schedule garage door services or request a free estimate for your garage door opener today!
Other Resources for Weather's Impact on Garages